Live longer in just minutes per day.
ShareCare.com

BY PATRICK SULLIVAN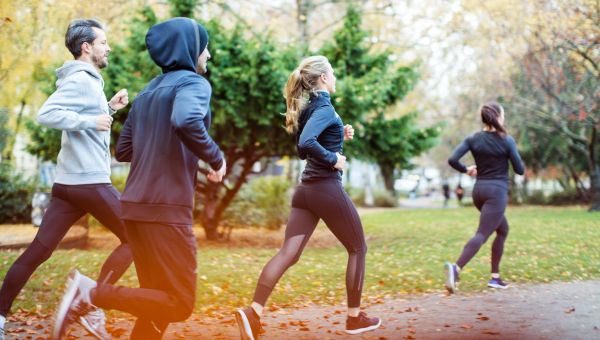 What if there was one activity you could do for two hours each week that helped you live three years
longer
? Good news: there is. Better news: you don't need fancy machines or expensive personal trainers. All you need to do is run. Regular running—even just a few minutes a day—will help make your
RealAge
younger than your biological age, showing that your body has fewer miles on it than your actual age would suggest.
Pound the pavement, live longer
A March 2017 study published in Progress in Cardiovascular Diseases analyzed data from more than 55,000 people, as well as the results of other large studies. Researchers concluded that running may offer more longevity benefits than other types of physical activity.
In the study, people who only ran had a 30 percent lower risk of dying early than people who were wholly inactive, while people who were active but did not run had just a 12 percent reduced risk. People who ran and were active in other ways saw the biggest benefit—a 43 percent reduced risk of mortality. The authors concluded that runners could expect to live, on average, 3.2 years longer than non-runners.
Just minutes per day
Participants in the study ran an average of two hours per week, which is actually less than the
150 minutes of moderate exercise per week
the Centers for Disease Control and Prevention recommends. The authors crunched the numbers and determined that one hour of running translates to about seven additional hours of life.
The March 2017 data was based on an older study, published in August 2014 in the Journal of the American College of Cardiology (JACC). The JACC study suggested that even five or ten minutes of running per day at a slow pace significantly reduces the risk of dying early of any cause or dying of cardiovascular disease. Of course, runners generally tend to have healthier lifestyles; they don't usually smoke, for example. But even after researchers adjusted for these factors, runners still came out on top in terms of longevity.
Start a running routine
You don't have to sign up for a marathon to get the benefits of a longer life. If you're new to running, it's best to start slowly to avoid injury.

Invest in a good pair of running shoes. Local athletic stores or running shops can help fit you for the best pair. If you haven't exercised in a while, start with a walk. A daily stroll at a moderate pace can still help reduce your risk of high blood pressure, diabetes and maybe even cardiovascular diseases.
If you're ready to run, try intervals. Warm up with a 5-minute walk. Then run one minute and walk one minute. Repeat 10 times before cooling down with a walk. Changing your speed may help improve muscle strength and blood pressure.
As you gain for fitness, increase your running intervals beyond one minute, while decreasing your rest. Before you know it, you'll be running a mile without stopping
Keep tabs on your progress by using a tracking app. One option is Sharecare (available on
iOS
and
Android
), which has a built-in steps tracker. Try to go a little bit further and take a few more steps every run.
Live long and prosper
If you want to
age gracefully
, in addition to running, you can do what people in Blue Zones do. Blue Zones are areas of the world with a high concentration of people over the age of 100.
Those who live in Blue Zones:
• Make movement a natural part of their days
• Live with a purpose
• Have a strong sense of community
• Manage stress
• Drink alcohol in moderation
• Eat a plant-based diet, and never until they're stuffed
Want to know exactly how beneficial your favorite activity is to your longevity? Take the
RealAge Test
today and find out.